Lemon Braised Kale—can be served as a warm salad or side dish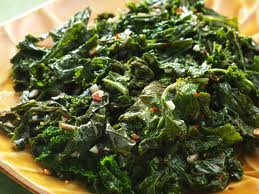 1 large bunch of Kale or Russian Kale (feel free to add spinach, arugula and other greens)
1 tablespoon coconut oil or avocado oil (better for cooking at higher temperatures)
1 medium onion, finely chopped
2 garlic cloves, minced
Juice of 1 large lemon
½ tsp black pepper
½ teaspoon salt
1 tablespoon of sunflower seeds or sesame seeds
Finely chop onion, mince garlic, and squeeze lemon
Rinse the Kale, remove the stems and coarsely chop the leaves
In a large skillet, heat the oil over medium heat. Add the onion and garlic and cook, stirring, for 2 to 3 mins. Add the Kale, the lemon juice, the salt and pepper and cook over medium-low heat until the green are wilted, about 5 mins.
Using tongs, transfer to a serving platter and sprinkle seeds on top and serve.
Make 4 servings
Prep and cook time approximately 20 mins
Equipment needed:
Cutting board, knife, small hand lemon juicer or strainer to catch seeds, tongs, and skillet